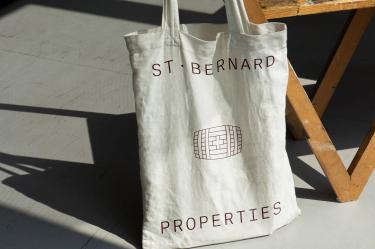 We are excited to share a preview of our work for Denver-based developer St.Bernard Properties. Through rehabilitating historic buildings and developing new builds, they are helping revitalize neighborhoods with both commercial and residential properties.⁠
⁠
The name harkens to the legendary dogs that carried whiskey barrels around their necks to assist stranded travelers.⁠
⁠
While the first thought was to create a mascot, it would only connect to the name. Instead, we resonated more with the mythical barrels they carried and their rehabilitating power. For this reason, we chose to develop a sophisticated and strong symbol to reinforce their important work around the neighborhoods of Denver. ⁠
⁠
We are still working with the St.Bernard team to expand the brand and digital presence. We will be sharing more work as the brand progresses.